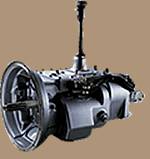 Heavy duty truck parts including blocks, crankshafts, cylinder heads, and more are available at Central State Core Supply. We are buyers and sellers of used and surplus diesel engines and heavy duty truck parts.
We disassemble over 2000 engines each year for parts! All parts will be rebuildable. We guarantee it. At Central State Core Supply, we take care of our customers' needs. Our heavy duty truck parts professionals can find the truck parts you need FAST and at the best price! Call us for all your used part needs.
Heavy duty truck parts we carry include:
engine assemblies
crankshafts
blocks
heads
fuel pumps
flywheels
oil pans
camshafts
engine brakes
clutches

turbochargers
air compressors
fan hubs
water pumps
connecting rods
steering gear boxes
power steering pumps
differentials
transmissions
Allison automatics
Search for parts here
Please click on the images below for a larger view.
Shipping is made easy with Central State Core Supply. We can load tractor/trailers or export containers. We can palletize for LTL, UPS or next day air shipments.
To make a parts request, simply fill out our "Quick Parts Request" on the right. You may also visit our Contact page and fill out our online form or contact us personally.
We look forward to assisting you with diesel engine cores and heavy duty truck parts. Give us a try today!
Central State Core Supply dedicated to doin' whatever it takes!



Home | Heavy Duty Truck Parts | Diesel Engines | Complete Units | Specials


625 East Tampa, Springfield, MO 65806
Tel: 1.800.222.7129 / 417.864.6477, Fax: 417.864.6414
Web: www.centralstatecoresupply.com, E-mail: info@centralstatecoresupply.com