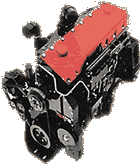 Complete units are always available at Central State Core Supply. We are buyers and sellers of used and surplus diesel engines and parts, as well as transmissions and differentials.
Our engines are guaranteed to be rebuildable. We supply all types of complete engines, including: Caterpillar, Cummins, Detroit, Mack, International, used and inspected cores.
In addition to engines, we handle transmissions and differentials: Eaton, Fuller, Spicer, Clark, Rockwell and Allison Automatics. We also handle steering boxes and pumps: Bendix, Saginaw, Sheppard, TRW/Ross, Eaton and Vickers.
View some of our current complete units in inventory below. If you have any questions, or would like to make a request, please fill out our online form on the Contact page.
Please click on the images for a larger view.
To make a parts request, simply fill out our "Quick Parts Request" on the right. You may also visit our Contact page and fill out our online form or contact us personally.
We look forward to assisting you with diesel engine cores and heavy duty truck parts. Give us a try today!
Central State Core Supply dedicated to doin' whatever it takes!



Home | Heavy Duty Truck Parts | Diesel Engines | Complete Units | Specials


625 East Tampa, Springfield, MO 65806
Tel: 1.800.222.7129 / 417.864.6477, Fax: 417.864.6414
Web: www.centralstatecoresupply.com, E-mail: info@centralstatecoresupply.com