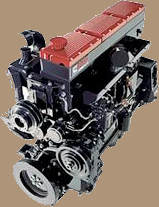 Diesel engines and diesel engine cores can be found in large quantities at Central State Core Supply. We are well-known for our huge inventory and selection of used and surplus product, including diesel engines, diesel engine cores, and various heavy duty truck parts including: crankshafts, blocks, water pumps, and more.
At Central State Core Supply, we supply hundreds of engine dealers and rebuilders worldwide. We export thousands of diesel engines and cores every year!
View some of our current inventory below. If you have any questions, or would like to make a request, please fill out our online form on the Contact page.
Please click on the images below for a larger view and more information.
Genset Unit: Model UV549 IHC, SN.9196, HRS. 253.3, General Electric, Model 5SJ, 4404P23Y57, SN. JF384079, Type SJ, Frame 404Y, KVA 93.8, KW 75, PF 8, RPM 1800, VOH 277/480, 3PH, Cy. 60, Fl Amp 113, C rise arm by therm 70C, FLD by resis 80C, I.B. Gel 65501, Ext FLD Amps, RVF1 4.5, I.B. Gel GEK 2408, REG. 3300 AD380054, Conn. 3300A15A 3711-001. GEM 2261, Fig1-3.
Set up for propane now or can be natural gas.
FRONT
INSIDE





To make a parts request, simply fill out our "Quick Parts Request" on the right. You may also visit our Contact page and fill out our online form or contact us personally.
We look forward to assisting you with diesel engine cores and heavy duty truck parts. Give us a try today!
Central State Core Supply dedicated to doin' whatever it takes!



Home | Heavy Duty Truck Parts | Diesel Engines | Complete Units | Specials


625 East Tampa, Springfield, MO 65806
Tel: 1.800.222.7129 / 417.864.6477, Fax: 417.864.6414
Web: www.centralstatecoresupply.com, E-mail: info@centralstatecoresupply.com


Wholesale or retail. Domestic and Worldwide export sales.
Whether buying or selling, call Central State Core Supply for diesel engines and heavy duty truck parts needs.

Quick Parts Request
View Our Parts Selection:
For more information: